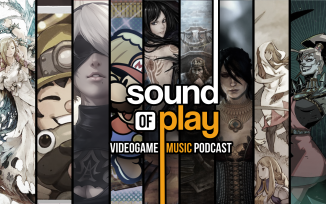 Joining Leon Cox for this week's podcast is Joshua Garrity.
Music featured in this podcast:
1. Trisection by Hitoshi Sakimoto/Masaharu Iwata – Final Fantasy Tactics, 1997
2. Intro Story by by Yoshito Hirano/Yuka Tsujiyoko – Paper Mario: The Thousand-Year Door, 2004
3. Against the Wind (Coerthas Western Highlands) by Masayoshi Soken – Final Fantasy XIV: Heavensward, 2015
4. Our Kingdom Will Fall by Andreas Waldetoft – Crusader Kings II, 2012
5. Jaws of a Scorched Earth by Michiru Yamane/Yasuhiro Ichihashi – Castlevania: Order of Ecclesia, 2008
6. Orlais Theme by Trevor Morris – Dragon Age: Inquisition, 2014
7. Dwelling by Eirik Suhrke – Spelunky 2, 2020
8. The Painful Way by Darren Korb – Hades, 2018
9. A Beautiful Song by Keiichi Okabe/Keigo Hoashi, vocal by Emi Evans – NieR:Automata, 2017
Sound of Play 271 was edited by Jay Taylor
You can subscribe using
Apple Podcasts
or you can just simply
download from here
instead.