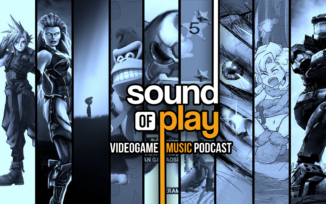 Joining host Leon Cox, in this week's podcast is community member James Hart.
What we aim to bring you with Sound of Play is a diverse sample of some of our favourite pieces from the many air-punching, spine-tingling, tear-jerking and grin-inducing videogame soundtracks we've heard over the years.
Music used in this podcast:
1. Undersea Palace by Yasunori Mitsuda – Chrono Trigger, 1995
2. The Credits Concerto by David Wise/Eveline Fischer/Robin Beanland- Donkey Kong Country, 1994
3. Ragnarok Canyon by David Wise – Battletoads in Battlemaniacs, 1994
4. Main Menu (Strange Things) by Randy Newman/Allister Brimble – Toy Story, 1995
5. Hold My Thoughts In My Heart by Nobuo Uematsu – Final Fantasy VII, 1997
6. Beetle Lair & Nethership Interior by Chase Ashbaker/Rich Carle/Brian Chard – Mortal Kombat: Deception, 2004
7. Sister by Martin Stig Andersen – LIMBO, 2010
8. Air Man ga Taosenai by Seramikarutitan, 2007
9. Peril by Martin O'Donnell/Michael Salvatori – Halo 2, 2004
Sound of Play 199
was edited by
Jay Taylor
You can subscribe using
Apple Podcasts
or you can just simply
download from here
instead.