Never mind the new generation, we have a new Periodical!
Hey folks, it's been a while but we can finally give you our fifth issue of The Cane and Rinse Periodical.
As with our previous issues, this digital magazine is a collection of some of our contributions to the blog in a portable, digestible format. Within the virtual pages of this issue we have a diverse selection of reviews for games such as Gaijin Entertainment's Skydive: Proximity Flight to Tale Of Tales' Luxuria Superbia, as well as several features covering topics such as expiring in Dark Souls, beating an enemy in Starcraft II and how one game went from being something of interest to something you'd want to take out the back and put it out of its misery.
In addition to all this you'll also find a podcast sampler in the form of 15 mins from Issue 89, in which we discuss Mojang's Minecraft. And finally, there are also a couple of Quick Rinse videos thrown in for good measure, in which Darren G. tackles both Sega's Typing of the Dead: Overkill and Michael Todd's Electronic Super Joy.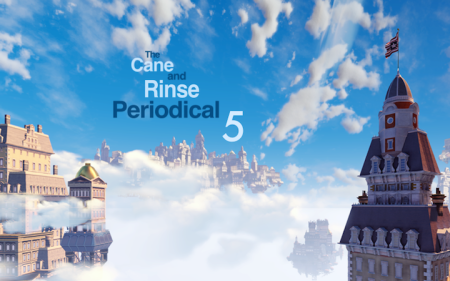 Unfortunately, as has been the case with the previous issues, a fully-functioning version of the Periodical is still pretty much exclusive for those of you with iPads*. However, there's also a download link for the .pdf** version too for those of you without access to one yet still interested in taking a look. Although the .pdf format only allows for active hyperlinks and none of the other multimedia stuff that is only available in the iBook version.
YOU CAN DOWNLOAD THE iBOOK ISSUE 5 HERE Size: 25.4Mb
For those of you who are without an iPad but are just curious anyway;
YOU CAN DOWNLOAD THE .PDF ISSUE 5 HERE Size: 41.7Mb
*iOS5 & iBooks are also necessary to view the content
** For those of you who may view the .pdf version reduce the scale to 85% for it to resemble the standard iPad screen size.
And finally, a brief reminder that currently the Periodical is designed to only be read in the landscape orientation only on the iPad and not in portrait.