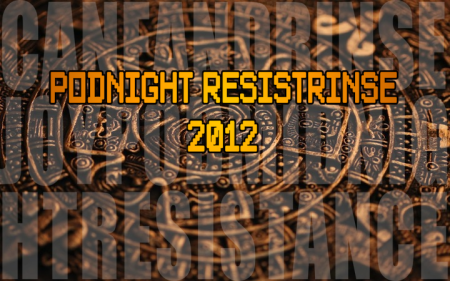 The unholiest of trinities and a podcast episode that refuses to end: Podnight Resistrinse 2012

For the uninitiated, the plan is to go through every game released that year, in chronological order, and talk about the ones we played. This year, the end result lasts for almost six hours, although the good news is that we somehow managed to make it fairly entertaining throughout, despite not finishing the recording until 2am.

I [editor Sean] have done my best to edit out all the times Dave Turners had to go for a piss/move his car/get a drink/sort his mic out, but knowing my luck I'll have left in the one break where someone confesses to a heinous crime or calls me a prick.

Huge thanks to everyone who listens to the entire show (or even a bit of it, or has ever listened to any of our shows) and of course to Andi Hamilton, David Turners, Michael Fox, James Farley and Sean Bell for being such wildly brilliant hosts.
NB: This podcast is not available through the Cane & Rinse feed. Help yourself to the show here (warning: lots of megs):
https://itunes.apple.com/gb/podcast/midnight-resistance/id519490959
http://midnightresistance.co.uk/podcast/podnight-resistrinse-2012