Scott Buros reviews Box Brown's graphic novel that tells the tale of the world's most popular video game.
Forecasting the popularity of any piece of art seems impossible most of the time. Certainly Tetris inventor Alexey Pajitnov didn't think his block dropping puzzler would be more recognizable 35 years after its conception than a picture of Mikhail Gorbachev.
Similarly author Box Brown must have thought that on the heels of his New York Times Best Selling graphic biography Andre the Giant: Life and Legend his next pop culture chronicle Tetris: The Games People Play would be just as big a hit.
That this tale of programming, politics and play didn't capture the public's imagination in the same way that Brown's more hulking subject matter did does not mean that it is any less worth reading though.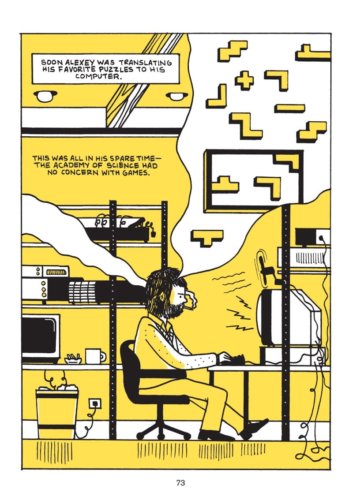 Employing a yellow, black, and white color palate along with his signature flat cartooning style, Brown arranges the story of Tetris more neatly and completely than most game historians have been able to.
His respect both for the artistic talents of game designers, and the commercial ambition of the cast resonates throughout the text, but perhaps the most fun part of learning about these characters are the head sketches Brown draws at the start of each chapter, reminding the reader of portraits typically found in older pixel era games.
Tetris: The Games People Play perhaps isn't quite as addictive to read as a game of the recently released Tetris 99 or Tetris Effect is to play, but the story is as satisfying as a good run on either, and definitely worth checking out for anyone interested in game design or history.