I wanted to go to Tokyo before I was married. Or dead.
That sounds a bit harsh on the whole concept of marriage. Sorry about that.
Well, now I'm 31, almost 32 (hopefully not dead imminently but to be married sooner), and I've just about recovered from my recent trip to Japan, one of the most amazing places I have ever visited.
I managed it through the help of my brother, a helpful travel agent who knocked a whopping 50% off the asking price.
Staying in Shinjuku isn't cheap, but this welcome spot of nepotism at least made it somewhat easier on my long-suffering Super Mario wallet.
First night (Thursday 16th April 2015)
Upon arrival at Narita Airport, taking my transfer vehicle into heart of Nippon I immediately noticed at just how 'uneven' it all felt to me.
This wasn't jet lag (as I have mastered the art of sleeping on a plane by simply 'not caring' about being so high up), but in aesthetics.
The airport felt like it was designed by someone obsessed with the 70s but in the most charming way possible. The TVs were state of the art but what was displayed on those TVs felt like Microsoft clipart was the future, and the owners hadn't quite worked out how best to utilise it.
It was late as we were misdirected by the cheerful but soon-to-be-shamed driver as he pointed us to the wrong hotel.
I have never felt more alien than that night, but fortunately, we had WiFi. How? I looked behind me to see the cabbie hadn't left just yet.
He was embarrassed to have given us duff information but his WiFi van was still pumping out the good stuff. We quickly fired up Google Maps and found our way.
Ditching our stuff in anticipation to see more of the beautifully clean streets bustling with impeccably polite people, we checked in and ran straight into a British pub.
Well, what Englishman could resist the charms of the Japanese version of a UK-style public house? The words 'Fish & Chips' were everywhere.
We got drunk, spent far too much yen due to the novelty bar prices and got harassed by what I can only describe to you as 'utter dickheads' who spot the colour of your skin as soon as you step outside and try to sell you first, "Japanese titties", which we declined, and then weed. Yeah, alright mate, let's get deported on our first night shall we?
Second night (Friday 17th April)
Waking up in a strange place is an equally fun and daunting experience but, jet lag free, we made our merry way into the nearby national park in its preparation for the cherry blossom (Sakura) festival.
This was followed by a self-guided tour of Shinjuku and a brave foray down to the Metro to meet a familiar face from my brother's university days.
It got messy, really really quickly. After witnessing the famous Shibuya crossing many times and gasping at quite how cheap Japanese made videogame hardware is to buy here, we went to dinner and ate what I have decided must be some of the best food in the world.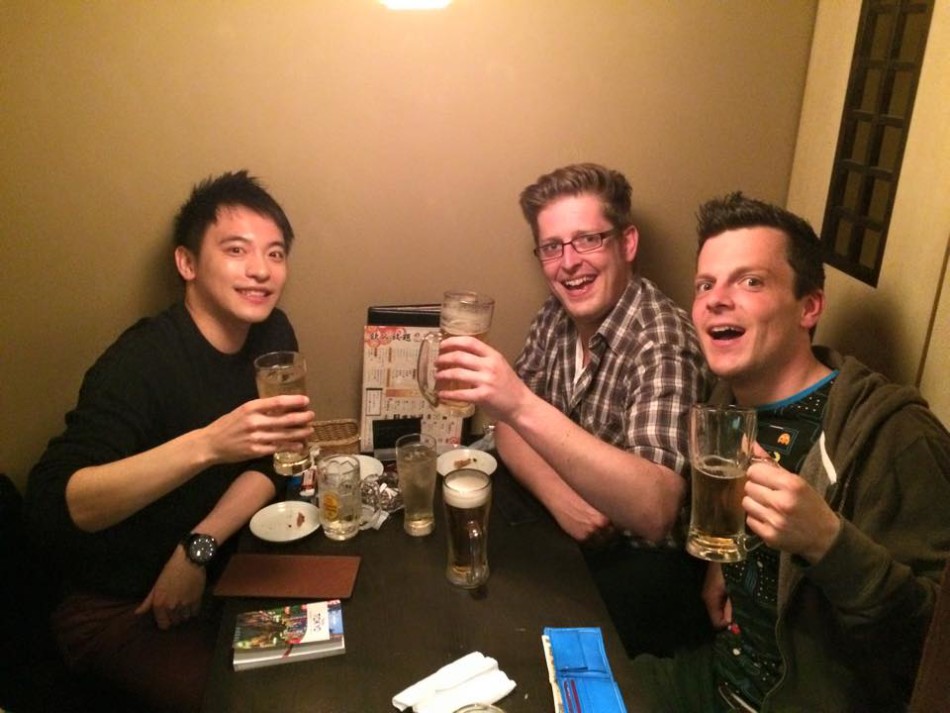 I don't even know what I had but I do know it was accompanied with some beers and loads and loads of sake.
"It's like drinking water, mate" said our native buddy, to which I was dubious. No spirit in the world is easy to drink but this blew my tiny mind. After that moment, most of the night was a blur, aside from heading into Hooters which lead into Karaoke, obviously. How we got home is a mystery aside from a giant billboard of a cartoon penguin to guide our way. Honestly.
Third night (Saturday 18th April)
I remember waking up laughing and then remembering almost immediately that this was one of the side-effects of drinking copious amounts of sake.
The French people next to us were staring at me as we ate breakfast in floods of tears, I couldn't stop laughing at the fact that I was laughing but I soon sobered up when I realised that today was Akihabara day.
Akihabara is intense in the most bonkers way possible, which was exacerbated by it being a Saturday. Smoky arcades (Game Centers) went up for multiple floors, maids offering me "coffee" in the streets and SofMap, a shop which felt like HMV until floor seven onwards – the pornography (Hentai) floors.
We soon scarpered out of SofMap with some game goodies in my bag in search of the elusive one.
Super Potato is a retro videogame shop-cum-museum that has earned somewhat of a reputation and being one of the biggest tourist attractions in town.
Super Potato is tiny, starts on the third floor of one of the many high-rises in the area, and houses almost literally anything games-related you could want – so long as it was made in the 70s, 80s, 90s or 2000s.
If you're going to try to seek out this beautiful place, listen out for the Super Mario Bros 3 music pumping from the store front. It's a bit of a clue.
Later back in Shinjuku, we prepared ourselves to meeting Cane and Rinse podcast listener, Richie Attwood.
A delightful chap who took us to a great restaurant and got us a bit tipsy before we embarked on another tourist wonder/trap; The Robot Restaurant. I can't put it into words, just Google it or something.
Third night (Sunday 19th April)
Oh Sunday. You almost broke me.
We searched in the wrong place for the worlds biggest fish market only to find out upon arrival (of the wrong place) that it wasn't even open.
This was balanced out by what I called "Wavy Hand Van" a vehicle in which candidates for mayor or this particular area drove about a bit and waved at people but only revealed their hands. It was weird. We were tired but we waved back and probably couldn't have been more obviously tourists if we'd been trying.
Other sights include the World Trade Centre, a walk about the Imperial Palace Gardens and a beautiful shrine/temple with some of the purest water in the world. Well, at least that's what it felt like. In fact it was so clear I had to double check to see if it was even there or not.
We headed to the Capcom Bar after some arcade action. Left 4 Dead in the arcades wasn't as fun as I'd hoped, but in better news, the bar in question is actually more of a dining place.
Biohazard themed food, Rockman themed drinks and all sorts of Capcom related shenanigans went on in there but the brain cake served by a zombie waiter was a highlight.
Knackered. Bed.
Fifth night (Monday 20th April)
Our last night already. Where has the time gone?
To be honest by this point I am so worn out from the energy which powers Tokyo that I'm ready to sleep on the plane back to Dubai but not before we try and see the famous Mount Fuji.
I'll save you the boring details, but sadly it was foggy, windy, rainy and smelly.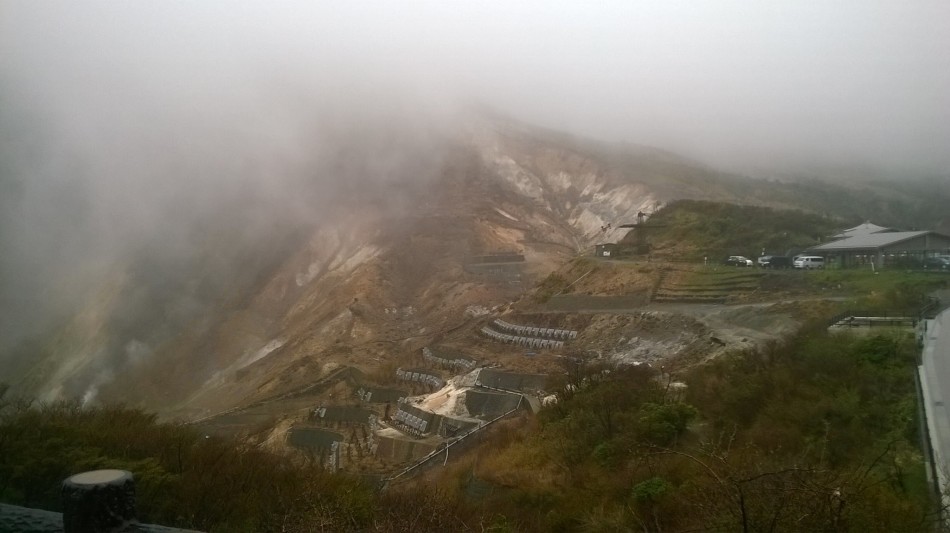 It's a shame really that Fuji wasn't visible but the journey home was on the bullet train (Shinkansen) -after I had accidentally peed in the girls toilets, silly gaijin.
We had a bit of time before our transfer home so we headed to the elusive fish market and actually found it. It's ridiculously huge and not really meant for tourists but if you get the chance, you should witness the madness.
We also foolishly gave into the powerful lure of Akihabara and headed back in one more time to look for further videogame related purchases, almost missing our ride back to the airport in the process.
"Just five nights?!" That's what most people said to me when I revealed the extent to which one of my life goals was to be achieved.
Yet even though I was only there for a few days, I could go on and on about all the minor details and funny or amazing things we saw, but I wouldn't want to ruin the adventure for you.
Go there as soon as you can.
Tokyo is everything and more I hoped it would've been and I'd head back there in a heartbeat (or 19 hours worth of) even without the super-discounted rate.
It's incredible.
P.S. My Tokyo videogaming purchases: