I woke up last week to read that Dan Harmon, one of the creative forces behind the excellent Rick and Morty, had publicly denounced a number of the show's fans after they had launched a hate campaign against one of the show's writers.
She deserved it, of course; after all, she was a woman, and there's no place for them in the entertainment industry. Besides J.K Rowling, or Jane Austen, or Virginia Woolf, or Mary Shelley, or Emily Bronté, or Harper Lee, or Agatha Christie, or Stephanie Meyer, or Björk, or Amanda Palmer, or Billie Holiday or… what have women ever done to provoke and entertain the masses?
It's not the first time this vehement woman-hating has polluted new media, and it won't be the last (although a cartoon about an angry scientist and his wet-dreaming sidekick would be a hell of a hill to die on). Just ask us gamers; we've witnessed sexual and racial abuse ever since 12-year olds discovered Halo 2 and high-speed internet connections.
Like the news, like television and like the internet, the alt-right is watching videogames like a hawk – and they're ready to cry foul whenever developers avoid the opportunity to be racist, sexist troglodytes. Their bizarre tantrums and misunderstanding of 'free speech' would be hilarious, if the hateful poison running through it all wasn't so worrying.
The most poignant example of this – and an unfortunate instance of gaming hitting mass media for all the wrong reasons – is GamerGate, an orchestrated hate campaign against developer Zoe Quinn. 'Cunningly' disguised as a protest for journalistic integrity, it was a movement based on a single accusation, with an ex-boyfriend of Quinn claiming she had exchanged sexual favours for positive coverage of her game Depression Quest.
Apparently, this was all the basement-dwellers needed; latching on to the story as if it were the single most shocking development in the industry, they began a crusade for truth and justice, fighting the Quinn tyranny via the valiant tactics of doxing attempts, death threats and intimidating allusions to rape. "Let's see if we can make her kill herself", one crusader chillingly suggested on 4Chan, clearly not drowning in the violent, sexist undercurrent that GamerGate definitely wasn't propagating. The fact that all other enemies in this campaign were women fighting for equal treatment in the games industry was, of course, just a long string of coincidences.
It was safe to say then, and safer now, that this had nothing to do with any moral upstanding and everything to do with a far-right feeding frenzy. And whilst it did nothing to ruin the female industry pundits, it attracted the attention of the right; even wraith-like bilge pump Milo Yiannopoulos got his talons well and truly into the cause, his previous comments about gamers being fat, lazy virgins presumably absolved by the passage of time.
The excuse of 'journalistic integrity' had given the alt-right exactly the vague, ethical pretence they needed if they were going to be 'The Good Guys'. From there, the seeds were sown and, somehow, they were given their ill-gotten relevance in the videogame medium.
It behoves the alt-right to have their fingers on the pulse of videogaming – even if contemporary entertainment doesn't sit with the centuries-old doctrine of fascism, shaking its fist angrily at those liberal, fun-loving whippersnappers. But painful as it is to admit, the right are a crafty bunch that needs to be two goose-steps ahead if they're to push back the progressive 'threat'.
Games are their 'in'; the most modern, popular form of entertainment amongst their target generation, now more profitable than the music and film industry combined, and with enough of an online presence for them to scoop up an audience. Some of them might generally care about gaming, but a lot of them care more about what it can do for their cause.
These people want to indoctrinate their future members from a young age. Hatred, after all, is learned, so it makes sense to reign in the youngsters while they're impressionable. Play against the average kid online and not only will he be gunning down virtual foreigners, he's perfectly comfortable shouting "n****r" to cover up his own failures; it doesn't indicate any innate prejudice, but it gives 'recruiters' something to go on.
If this sounds a little bit tin-foil hat to you, then bear in mind that targeting 'Da Yoof' with modern media isn't a new tactic for the far right – even if previous attempts have fallen hilariously wide of the mark.
The British National Party has a youth wing of its own, whose dire puppet mascot, Billy the Brit, regaled young 'uns with a delightful little YouTube poem about Great British figures who just happened to be white. They've also infiltrated British schools via governing bodies and teaching assistant roles. If this sort of thing can happen uncontested, it's not too much of a stretch to imagine online gaming circles becoming a target.
This might be how games such as Kill the Faggot and FemiNazi 3000 slipped through Steam Greenlight's frankly shambolic vetting service. Though Kill the Faggot's overtly hateful content meant it was removed within two hours of sale, FemiNazi 3000 endures with content that's more provocative than pronounced. Naturally, the developers have defended each game's existence on the lazy basis of 'satire'. Kill the Faggot developer Randall Herman insists his game was some revelatory comment on leftwing sensitivities. It wasn't, of course, and a two minute Google search not only destroys this assertion, but shows Randall up as the absolute piece of work that he is.
FemiNazi 3000 is more obviously silly, yet fails to hide its mean-spirited origins given how familiar it is with far-right terminology. By the developer's own bidding, the game's Steam forum is an absolute cesspit; full of unrelated Jewish slurs, alt-right memes and numbing repetitions of the words 'triggered' and 'snowflake'. The game's disclaimer claims not to defend or shame, but within seconds it's obvious which side of the fence our developer and his fragile male audience are on.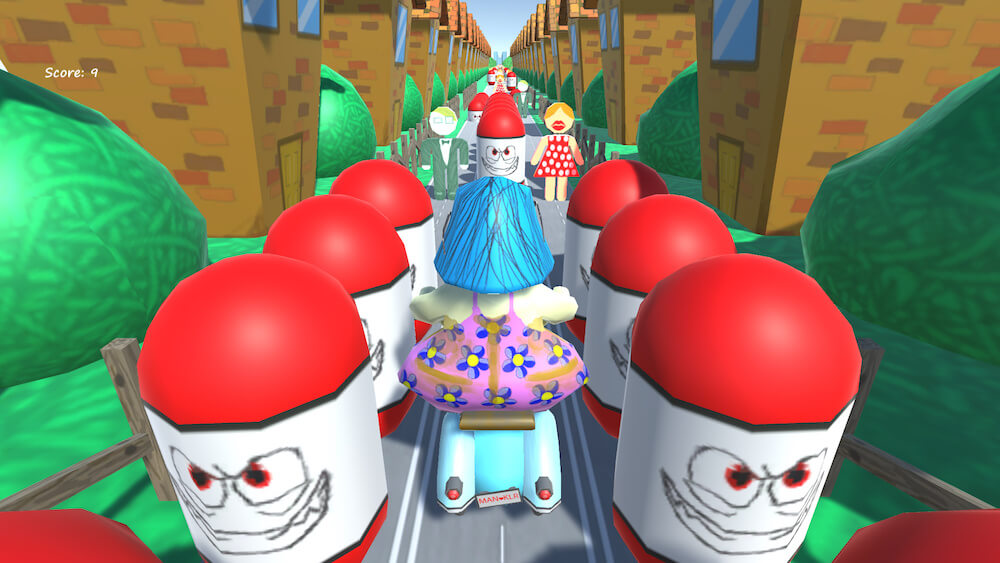 But if two low-profile games are providing the ammunition, it's two triple-A releases that have the alt-right shooting themselves in the foot. Having settled into the gaming community so comfortably, the mob has begun making incredulous claims of victimising in some of the most delicious self-satire imaginable.
Far Cry 5 is the latest in Ubisoft's series of despot murder simulators; only this time, in a blatant endorsement of white genocide, its antagonists are predominantly white, Catholic Americans. If you ignore the fact that the series previously framed itself on the guilt-free massacring of Africans and Asians, this might have been shocking.
It would have been even more shocking, however, if Far Cry 5 actually was an outspoken criticism of Catholicism, and an advocate of violence against whites – so it should come as no surprise that it's neither. This hasn't deterred the right, convinced that the game is an affront on their principles, but then a lot of things look bad if you squint really hard and replace the context with some twisted alternative of your own.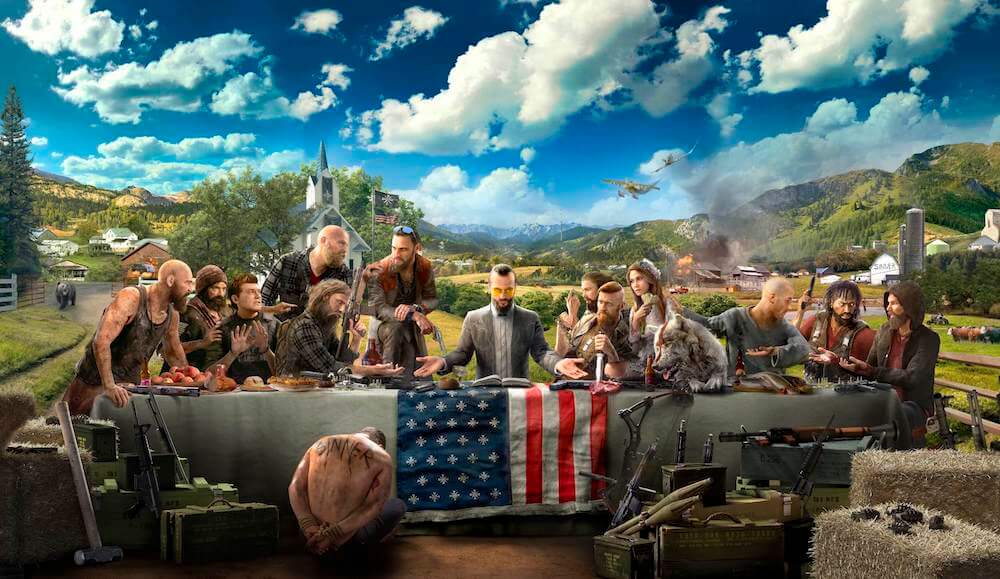 So it's with the latest Wolfenstein game – Wolfenstein II: The New Colossus – that our alt-right friends might almost have a point. "Yeah, sure, let's kill people whose ideas differ from our own" whines one Twitter user, appalled that the 35-year-old series will continue the theme of shooting Nazis in the face when this latest entry – the ninth in a series which has been going since the early 1980s – drops later this year.
Unlike Ubisoft, who have seemingly shrugged off the Far Cry 5 controversy and its journey to nowhere, MachineGames are swimming gleefully in salty fascist tears.
Early game footage, in which two Nazis criticise 'oppressive left' violence towards their regime, is a pitch-perfect sendup (even if it does end with both of them being brutally murdered). Meanwhile, the "NO MORE NAZIS" trailer title stuck two fingers up at the fragile demographic, publisher Bethesda strolling right up to the fascist gaze and giving it a good old-fashioned curb-stomp.
That self-proclaimed Nazis and their far-right chums think they can amend the politics of gaming demonstrates how little they know of the medium. Publishers won't bow to alt-right pressure for the sake of broadening an audience. It already has an audience; a sizeable one that has shot so many virtual goose-steppers in the knackers it was dangerously close to getting bored.
If anything, the full extent of the far-right invasion will be making that trope entertaining once again.
So thanks, I guess?