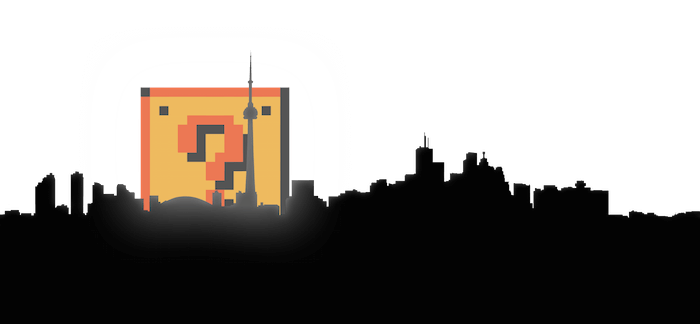 In the third of his pieces from the Toronto independent development scene, Ryan Hamann meets Dames Make Games.
In early August, 2015, I had the chance to travel to Toronto for the annual convention of the American Psychological Association, an organization I belong to due to my professional work and study being within the field of mental health services.
I was excited not only to travel the great distance and present my professional material but also to explore Toronto's legendary independent gaming scene.
I made time, while in the city, to sit down and talk with some of Toronto's most talented and influential game designers and writers.
This, along with two other articles, chronicle the conversations I had and the demonstrations I experienced
when plugging myself into this thriving community.
I hope it will be of use for those inspired to create games themselves or those looking to bolster their own local independent communities.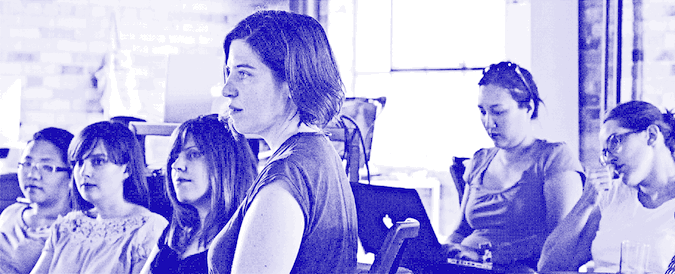 On the final night of my trip to Toronto, I attended an event put on by a group called Dames Making Games (DMG).
As they describe themselves on their website, "DMG is a not-for-profit feminist organization dedicated to supporting dames interesting in making, playing, and changing games".
Aiming to provide a safe space and expert services to help women, non-binary, gender nonconforming, trans, and queer developers and players, DMG organizes social events, public workshops, game jams, mentorship programs, and research scholarship.
Though open to any and all who wish to participate (even straight males such as myself), they explicitly boost the voices of those who may be marginalized in other spaces within games communities or industry events.
The event I attended was DMG's monthly speaker social. Though I was familiar with the idea of monthly socials within indie communities, as this is the type of event that I have been attending for a few months in Seattle's indie game developer community, I had never been to a speaker social, and I actually found it to be quite an ingenious addition to the formula.
The meeting was held at the Bento Miso Collaborative Workspace, a workspace shared by various game developers and web professionals. Among the teams working in that space are Asteroid Base (Lovers in a Dangerous Spacetime), Rocket 5 (Phantom P.I.), Christine Love (Analogue: A Hate Story), and more.
While their social maintained the comfortable, casual networking environment that I was used to, there was some time dedicated to formally educating its attendees and allowing members of the community an opportunity to share their ideas.
Shortly after arriving, we gathered together and listened to presentations made by three women who do fascinating games work in the area: Yifat Shaik (@yifatshaik), a programmer and artist creating Real Army Simulator based on her mandatory service in the Israeli military, Emma Burkeitt (@emmamochii), an artist working on cooperative puzzle-platformer Pitfall Planet, and Agnès Roche, a publisher and project manager who has worked for Riot Games, Ubisoft, Mikros Image, and more.
They all gave really wonderful insights into the behind-the-scenes process of game development, and they told us about their sources of inspiration and what in their own lives drove them to create these games.
Yifat's presentation began with some education about the Israeli military. Everyone in the country is required to serve in the military when they come of age, and this is, naturally, a rather divisive practice among the population. Yifat used her own experiences as inspiration for a game that comments on the industrialization of military and the stress and traumatic symptoms felt by soldiers.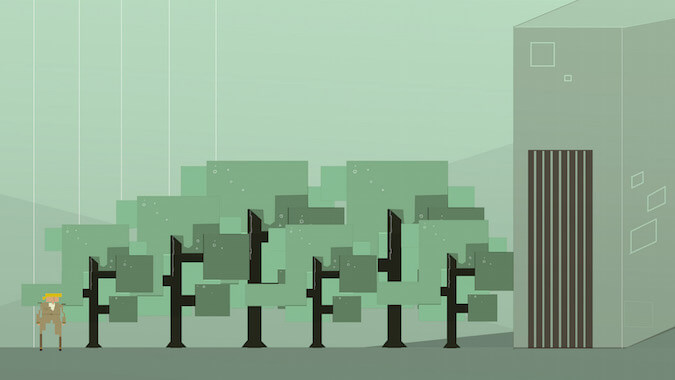 Real Army Simulator was developed for a TOJam event, a Toronto-area game jam that has been running annually since 2006, and production has continued since. Transitioning to a more Sword & Sworcery-esque art style, Real Army Simulator looks a bit abstract, but Yifat aims to make the game as true to her own experiences as possible.
Emma showed off some of the production history of Pitfall Planet, and she discussed many of the ideas that the team had abandoned along the way. This is not only a rare and fascinating look behind-the-scenes at the oftentimes rocky adolescence of a game project, but it also encourages others to use and repurpose some of the great ideas that simply didn't fit into this particular project. This is a way of keeping ideas circulating throughout the community.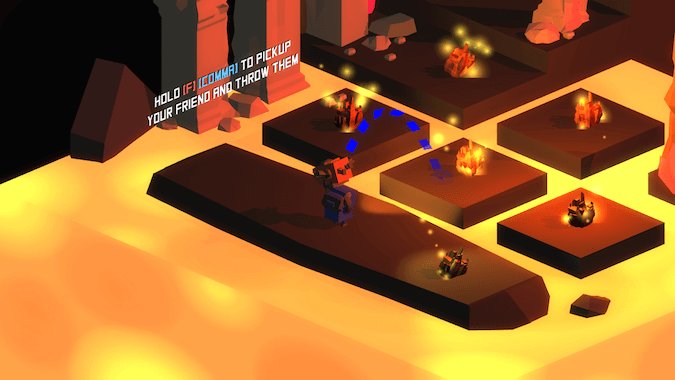 Agnès spent most of her presentation telling us about her own life and the various intercontinental moves that she has made following various opportunities. She encouraged those in attendance to seek out opportunities and never let opportunities pass you by, lest you regret their passing. She gave a unique look into the life of a producer, a role that many indie development teams do not account for, and spoke about ways to break into the industry, for those so inclined.
I liked the format of this event, because it presented a curated sampling of some of the impressive and inspiring work being done in the local community. Even in smaller developer communities, an individual may not ever see a particular project that someone else is working on, much less hear the enriching backstory about what inspired it. Highlighting a selection of games increases the sharing of ideas and increases the familiarity members have with one another's work (especially useful when putting together teams for future collaborations).
Furthermore, it boosts the voices of those who otherwise may not have access to such an audience. Truly, everyone has something novel and worthy to contribute to a community, but many are without a platform to do so. Giving a few minutes to a small handful of members is a small allotment of time and resources that could potentially have an incalculable effect on the community.
Most inspiring, though, was that the format communicated a clear desire to educate the community. All three speakers spoke about technical challenges that they faced and how they overcame them, potentially passing on wisdom to others who may find themselves in similar situations.
Agnès, in particular, spoke about a side of game creation that the indie developers in the audience were probably almost entirely unfamiliar with: the role of producers. All three provided education about subject matter outside of video games, enriching not only the personal knowledge-banks of those in attendance but also the well from which they can draw inspiration for their own art.
After listening to the speakers, I socialized with those in attendance and met people with a wide variety of talents in the game development field. I met a Sound Shapes developer with all kinds of stories about the wacky development process behind that game, graphic artists with a flair for voxel work, a dynamic sound and music engineer, and more.
That is to say, I highly encourage those looking to get into game development to network at social events such as these. The resources and talent in attendance is staggering, and there are always dozens of eager artists looking to collaborate on future projects.
When creating a community of local developers, carefully consider what you want your community to stand for. Will it be a place in which unexpected games from unexpected people can thrive, or will it only cater to the more polished and marketable titles? Will it be a networking tool, or will you strive to celebrate and educate your community? Will it look inward and incubate great talent from within itself, or will it be a cornerstone of the community at large, serving and educating the public?
Dames Making Games provides a compelling example of what a game developer community with a mission looks like.